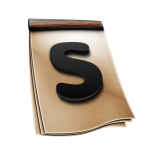 Just thought I'd write a quick post to let you know that now, after finally figuring out what was wrong with 'Scribble's Notepad' after it for some reason refused to open…  I am at last continuing with its development.  I'm not sure if I shall call this version 2.6 or 'Scribble's Notepad 3' yet – I reckon that because I've added SO MUCH into this version compared to the last that I'll probably whack a big 3 next to it.  I'm pretty excited about it, it's turning out really nicely – and I've learnt how to make it really… really cool.
Yes, I am most definitely getting too hyped up over a Notepad application.  But AGH! I'm conceitedly gleaming.  I just can't believe some of my crazy ideas that went into the coding of this program actually worked…
Quite irritatingly – I actually want to keep most of the details secret – the problem is the other half of me is saying, "TELL THEM EVERYTHING!!! DO IT!"
So I'll meet myself half way and tell you some of the stuff that's going on…
SOME OF THE NEW STUFF
1. Brand new customisable style system.  The last post that I wrote about Scribble's I mentioned this – thing is, I've completely re-written that style system since then.  I'm onto something far nicer.
The new style system, or themes, allows you to create your own themes – but also – I can now host new themes that I create on my website for download within Scribble's.  This doesn't really sound that spectacular – but it took a lot of time and thought to get it working.  Downloading and extracting theme ZIP files from the Style Browser.
2. Now because I figured out how to download and install themes… I can apply this same process to the updater.  Scribble's can now be updated hassle-free straight from… within Scribble's.  Again, anyone that's used mainstream software – this kind of thing is a standard no-brainer.  Something that's not really to ground breaking.
3. Character count, word count and Hotkeys.  These are all things that practically every word processor has – even though Scribbles… is a Notepad.  I thought it obvious to include these things in.  Hotkeys were surprisingly easy to implement… quite annoyed that I didn't add them sooner.  But the character count and word count are definitely one of those *must haves.*
I know, I know… still not sounding that 'HOLY WOW MAN'
I'm just overly excited about my mild achievements in programming right now… so give me a break.
I shall keep you up to date with the changes – but this update is going to be good. =)
Thanks,
Ben.