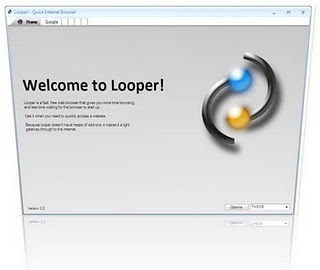 Looper is back! And better than ever.
I was tired, tired of waiting for my web browser to load when all I wanted to do was simply Google one thing, or go to a website or check emails.
So I present to you, Looper.
A quick booting, lightweight, simple web browser.
(Which by the the way looks great when maximized)
It's Developed by Ben-A-Ball, and it's free.
But that's not the best part
The best part, is that to download Looper! Will only use 1.9MB, along with that, when installed it only consumes 5MB of your hard drive, perfect for net books lacking space!


Download Details:
Size: 1.9 Megabytes
Type: .EXE (Executable)
Platforms: Windows XP, Windows Vista, Windows 7
Not only is it a small download, but only takes up 5MB when installed!
Looper is no longer available
UPDATE HISTORY:
Version 2.0
– Built-in Updater (beta)
– Tool Menu
– Options (Save Tabs, Ben-A-Ball Tabs, Homepage, Check for Update)
– Name and Colour tabs
– Built in Calculator
– Built in Notepad
– Download YouTube videos with built in KeepVid button
– Minor tweaks
– Favourites now added
– Ben-A-Ball Tab (Enable in Options to get an exclusive Ben-A-Ball content viewer)

Version 1.5.0.0
Not released to public minor and major tweaking of program
Version 1.1.0.0-
 – All tabs now work, no cheepy skate here
– More tabs
– Added search button
– Added reload button
– Changeable themes
– Address bar now displays address of current webpage
– Tabs change name to that of the page they are on
– Title of Looper! Displays the page title too.
– More controls added by right clicking the back button
– Other minor fixes
Version 1.0.0.7-
– First release glitchy