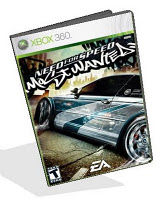 Need For Speed – Most Wanted
By Electronic Arts
XBOX 360
About:
You're a street racer, you just got to the top of the blacklist and you're now versing the top driver in town, If he wins he gets your car, if you win, you get his.
The race starts and off you fly, police are behind you, your street racing rival is right behind you, and your car begins to slow down.
It turns out your rival sabotaged your car, puncturing the fuel tank, before you started the race!
You lose the race to your rival, he claims the car, and then the whole gang speed off as the police close in on you.
But they can't arrest a street racer for street racing, if he hasn't got a car . . .
You have to get back to the top, win the races, evade the police, get your bounty up, to get your car back!
Review:
This would have to be the best Need For Speed game that I've played, Need For Speed Pro Street was an absolute joke, Need For Speed Carbon felt too confined, this is just perfect to control, nice and loose, its got great physics, great customizable cars, great tracks and awesome police evasions . . . is brilliant. Graphics are pretty brilliant too.
The only thing I don't like about the game is that evading the police can get hard, and its dam near impossible with Heat Level 5 and in the middle of a race.
But that's not the games fault, that's just my inexperience.
Summary:
Beginners to racing games will seep straight into this one, this is the game that got me into cars and racing, its fast, good looking, and contains a great sense of accomplishment when you beat the next black list racer. (Except the first guy, he just sucks!)
The only thing that lets it down are the cheesy cut scenes!
Rating:
4.9 / 5.0 – Game Play
2.0 / 5.0 – Cut Scenes
4.1 / 5.0 – Fun
5.0 / 5.0 – Visuals
OVERALL:
[review pros="-" cons="-" score=80]