Yes, I've changed the website theme again… but shhhh…. just trust me.  I think this theme will be staying for longer than any of the others.  Currently the website is looking exactly how I want it to – plus – everything is actually working!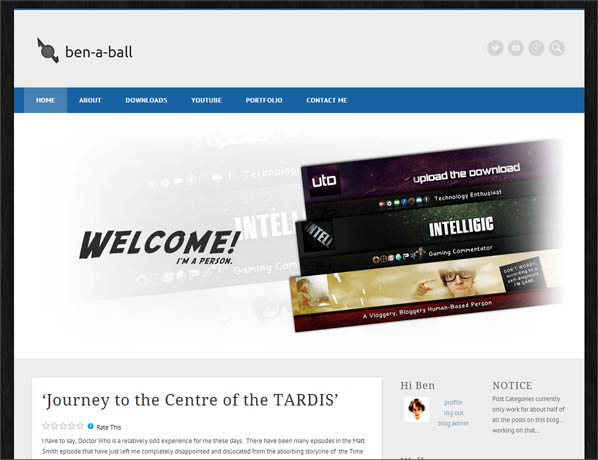 For those that are reading this post sometime in the near future – here is what the site looks like currently.  If you're reading this post when the site does look like this… then WELL DONE! You've just experienced website-ception.
Don't keep your hopes up though, you know how crazy I am about changing things.  So expect a completely new style and layout in a week or two.
Seriously though, I reckon I'm going to be keeping this for a while.
Right, enough of that.  Because it's time to ramble on for a little bit about something that has been becoming increasingly prominent in my life at the moment: the panic of trying to get things done.  It seems as though I have too large a plethora of tasks to complete – and of course, a majority of these tasks are simply self-imposed goals.  Things like, 'Yeah! Let's make another YouTube Channel!' come to mind when I say… self-imposed goals.
Inside the mind is a whirring box of 'Things to Come.'  To the population of thinking humans on Earth – that should ring loud and clear.  I have all these ideas of videos, books, stories and podcasts (yes even podcasts) that I want to create and share.  The issue here is… we come up with ideas faster than we make them into something.
I've written them down of course – but by the time I revisit them I worry that my original flare for the idea may be an extinguished one.  An idea that was gurgled around a bit before being spat out of my mind and straight onto a path that I'll never walk on again.
Does anyone else feel like there's just this rush to get everything done?
I'll be talking more about this in a vlog soon, so… stay tuned…. goons…  I'm such a brilliant rhyme artist! WOW! *insert sarcasm here*
Anyhow, I've written the equivalent of an English essay tonight so I'll be off! TIRED EYES, gah.  Go check out the other pages I just wrote up – the About, and YouTube page – if you're interested of course.  Other than that, thanks for reading!