Selby Spacedog
By Duncan Ball
Selby,
perhaps  the only talking dog in the
Universe
Is back and he's going to Mars.
Join the talking canine on his adventures:
Sunny Daze
The Dangling Dog
Books, Bombs and Book Week
Daggers Of Death
Bogusville Bonanza
Terror in the Tower
Selby's Solo
Selby in Cyberspace
Selby Dyes
Selby Confesses
Selby Superpooch
Bungy Bungle
Selby, Spacedog
My Spacewalk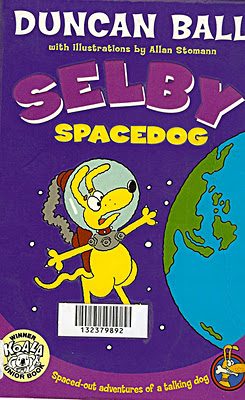 I'm starting to find these stories less and less believable . . . okay as if a talking dog was believable to start with, another great book with many stories in it, definitely soothed the Se;by craving minion within me.
Once you get hooked on the Selby series you'll be wanting to read every book you can find!
Read On!
Benaball,