StoryMaze The Wooden Cow
By Terry Denton
 Mikey and Nico attempt to sneak into a Fresian palace to rescue Claudia and M.I.T. (Mental Image Transfer) after being teleported in the wrong place.
A Comic and novel all in one.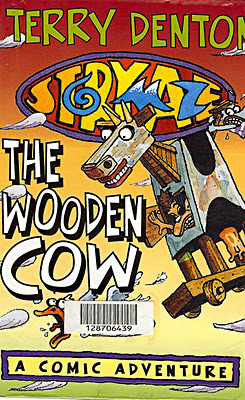 Nico and Mikey struggle to get into the palace, Even with their Fresian friends.
Will the Wooden Horse Of Troy give them any ideas as how to get in?
I find the StoryMaze books confusing personally, unless your one for pictures and wacky storyline and choose your own adventure style stuff I wouldn't personally bother. No Offence Terry!
Read On!
Benaball,