Toad Away
By Morris Gleitzman
A world where cane toads and humans play mudslides together. And help each other with the shopping. And share their slug sauce and maggot moisturiser.
Limpy and his cousin and sister, Goliath and Charm, go on a dangerous mission to find the ancient secret of having peace with humans.
Except Goliath, he would rather declare war on the humans with his army of cane toads and insects .
Can Limpy and Charm find the ancient secret of living in peace with the humans before his cousin declares war or more relatives get run over by a car?
A mission for brave cane toads,
Limpy, Goliath and Charm have to dodge supermarket trolleys, fly high in the sky, get on a plane and take way to the Amazon and all to find out the one simply secret of living in peace with the humans.
I myself find the secret disgusting.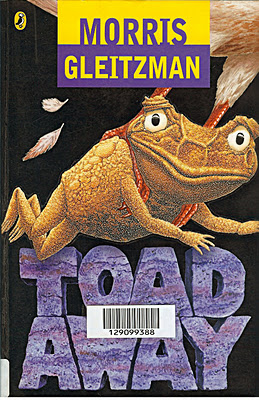 This book contains great  perspective of an animal that many main lander Australians can relate to, it shows imagination, and I was found drawn to the book, a lot longer than planned on some occasions . . .
Let's just say that going to bed early didn't change the time I went to sleep!
The other two in this trilogy are just as enticing, this one however sets the scene, opens up this world for you and welcomes you to the journey that's about to begin.
Great book!
Read on!
Benaball,