Selby Snowbound,
By Duncan Ball
Selby the only talking dog in Australia and perhaps the world goes climbing up and icy cold mountain.
Wilfred Crampon, The Trifles' mountaineer friend has found a mountain higher than Mount Everest, And he is climbing to the top.
But when the Trifles fall into a glacier and Wilfred is stuck up on the mountain.
Will Selby have to give his secret away to save them?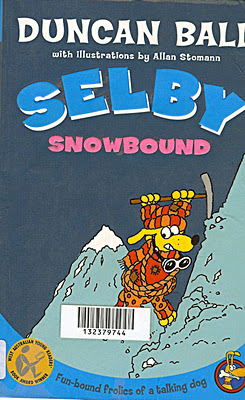 The Talking Dog's Adventures:
Nurse Selby
Selby Lovestruck
Selby Super-Seller
The Paddle-Pup
Selby's Surprise
Selby House Bound
Dr Trifle's War Of Words
The Dapper Dog
Selby's Statue
The Sky Eye Spy
Selby's Salsa
Selby Slugs Aunt Jetty
Selby Snowbound
The Toy Boat
Wrong-Headed Luke
Read On!
Benaball,